Penne with courgette-parmesan chips and baked ricotta
30 minutes
Ingredients
For 2 persons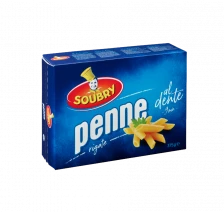 Penne rigate
The ribbed texture and concave shape of Soubry penne absorbs sauce perfectly. It is slightly larger than its predecessor, making it even more ideal for all sorts of dishes. Try a Soubry penne dish with tomato sauce and some bacon or a Soubry penne carbonara, delicious!
Preparation
Preheat the oven to 190°C. 'Pour' the ricotta into a baking dish. Sprinkle with 1 tablespoon of the olive oil, the dried oregano, cayenne pepper, pepper, salt and pine nuts. Put in the preheated oven for 20 minutes.
Thinly slice half of the courgette. Arrange the slices on a baking tray lined with baking paper. Season with pepper. Grate the parmesan over it. Place in the oven for 15 minutes.
Finely chop the onion and crush the garlic. Dice the rest of the courgette. Heat 1 tablespoon of olive oil in a pan and sauté the onion for a few minutes. Add the diced courgette and garlic and simmer again for a few minutes. Add the tomato puree and cook briefly. Add the diced tomatoes and let the sauce simmer for about 10 minutes. Season with a pinch of sugar, balsamic and salt and pepper.
Cook pasta al dente according to directions on the packaging.
Serve the pasta with the tomato sauce, courgette-parmesan chips and a scoop of baked ricotta.