Ingredients
For 3 persons
smoked salmon (in strips)

small onion (finely chopped)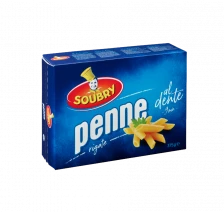 Penne rigate
The ribbed texture and concave shape of Soubry penne absorbs sauce perfectly. It is slightly larger than its predecessor, making it even more ideal for all sorts of dishes. Try a Soubry penne dish with tomato sauce and some bacon or a Soubry penne carbonara, delicious!
Preparation
Bring a pot of lightly salted water to the boil and cook the peas for 3 minutes.
Drain the peas and refresh under cold running water.
Fry the chopped onion in olive oil until translucent.
Add the cream, salmon and peas.
Crumble the fish stock over the top.
Season with dill and ground pepper.
Boil briefly.
Cook the pasta al dente as directed on the packaging.
Drain the pasta, return to the same saucepan and stir in the sauce.