No knead bread (in Dutch oven)
20 minutes
50 minutes
13 hours 60 minutes
Ingredients
For 1 bread(s)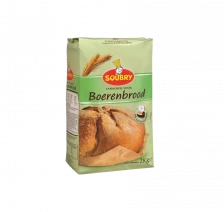 Flour for Farmerhouse bread
The varieties of bread flour from Soubry have been specially developed to obtain a perfect result in the bread baking process, even with bread machines that demand a very high flour quality. Soubry bread flour contains a lot of high-quality proteins. These guarantee bread with a perfect crumb structure and a golden brown crust. These flour types form the base to which you simply have to add water, yeast, salt and other ingredients depending on the recipe.
This mix is partially made up of wholewheat flour. This enables you to make light, brown bread with a delicious golden brown crust.
Preparation
Place all ingredients into a large mixing bowl. Now, using a wooden spatula, mix all the ingredients into a floppy dough.
Cover with a kitchen towel and allow to rise for at least 12 hours at room temperature.
Sprinkle some flour on your work surface. Place the dough on it. Stretch it out and fold it over. Turn the dough a quarter turn, again stretching and folding. Repeat twice more. Cover and allow to rise for another 2 hours.
In the meantime, preheat the oven to 225°C. Place a cast iron pot, without the lid, in the oven and let it heat up for 30 minutes.
Carefully remove the pot (because it is hot) from the oven, then place a sheet of baking paper inside. Pour the dough into the pot.
Put the lid on the pot. Place in the oven and bake for 30 minutes.
Remove the lid from the pot. Reduce the temperature to 210°C and continue baking for another 15 to 20 minutes.
Remove the pot from the oven and allow the bread to cool on a wire rack.
Tip!
Feel free to let the rising time go up to 24 hours. Then put your dough bowl in a place that is not too warm.

You can prepare this bread with any flour from the Soubry range.

Because we use a large amount of moisture, the bread does not stay very crispy for very long after baking.