Devil's cheese sandwiches
15 minutes
20 minutes
1 hours 30 minutes
Ingredients
For 1 bread(s)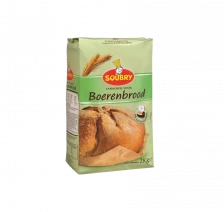 Flour for Farmerhouse bread
The varieties of bread flour from Soubry have been specially developed to obtain a perfect result in the bread baking process, even with bread machines that demand a very high flour quality. Soubry bread flour contains a lot of high-quality proteins. These guarantee bread with a perfect crumb structure and a golden brown crust. These flour types form the base to which you simply have to add water, yeast, salt and other ingredients depending on the recipe.
This mix is partially made up of wholewheat flour. This enables you to make light, brown bread with a delicious golden brown crust.
Preparation
Put all ingredients except the cheese into the mixing bowl of your kneader. Knead for 4 minutes on setting 1 and another 4 minutes on setting 2. Remove the dough from the mixing bowl, press it flat, divide it into pieces and sprinkle with the grated cheese. Press all the pieces together and knead a little more by hand. Cover with a kitchen towel and allow to rise for 30 minutes at room temperature.
Press the dough flat (degas). Divide it into 6 pieces of 65 g and 1 piece of 100 g. Roll into balls and place them on baking paper on your baking tray. Start with the largest dough ball in the centre and place the other 6 balls around it so that they are not touching each other. Cover with a kitchen towel and allow to rise for 60 minutes at room temperature. The dough balls will double in volume.
Cut the outer balls at the top with scissors. Slide the baking tray into a preheated oven at 200°C. Bake for 20 minutes and then allow to cool on a wire rack.
Tip!
If you can appreciate the taste of coriander then 2 to 3 g of coriander seeds can be added while kneading.

To give your rolls an even more rustic look, you can dust them lightly with some extra flour before baking.

To make sure the rolls will stick together you can moisten them lightly at Step 2 and they will stick together better.