Ingredients
For 14 bread(s)
lard or unsalted butter at room temperature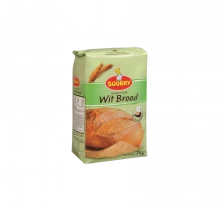 Flour for a white bread
The varieties of bread flour from Soubry have been specially developed to obtain a perfect result in the bread baking process, even with bread machines that demand a very high flour quality. Soubry bread flour contains a lot of high-quality proteins. These guarantee bread with a perfect crumb structure and a golden brown crust. These flour types form the base to which you simply have to add water, yeast, salt and other ingredients depending on the recipe.
This flour is a careful blend of fine wheat for a soft, beautiful and white crumb texture. Nice and light and flavourful.
Preparation
Crumble the yeast into the water, add the flour and mix. Then add the salt. Begin to knead. Once the dough is formed, add the lard or butter. Continue to knead it into a smooth dough.
Cover with a kitchen towel or clingfilm and allow to rise for 30 minutes.
Weigh out dough balls measuring 60 g and roll them into balls. Cover with a kitchen towel and allow to rest for 10 minutes.
Sprinkle a good layer of flour on the work surface. Place the dough balls in the flour and press them flat to form round discs. Arrange them on a baking tray. Prick holes in the top of the dough discs with a fork. You can sift some extra flour on top as a finishing touch. Cover with a kitchen towel or clingfilm and allow to rise for 60 minutes.
Preheat the oven to 220°C. Slide the baking tray into the middle of the oven and reduce the temperature to 200°C. Bake the oven cakes for 8 to 10 minutes. Remove from the oven and allow to cool on a wire rack.
Tip!
The trick is that the buns are baked but still look white on the outside. So keep an eye on the oven breads during baking.