Ingredients
For 10 bread(s)
poppy of sesame seeds for finishing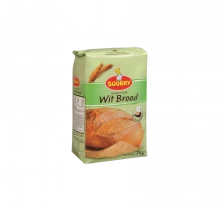 Flour for a white bread
The varieties of bread flour from Soubry have been specially developed to obtain a perfect result in the bread baking process, even with bread machines that demand a very high flour quality. Soubry bread flour contains a lot of high-quality proteins. These guarantee bread with a perfect crumb structure and a golden brown crust. These flour types form the base to which you simply have to add water, yeast, salt and other ingredients depending on the recipe.
This flour is a careful blend of fine wheat for a soft, beautiful and white crumb texture. Nice and light and flavourful.
Preparation
Knead the flour, yeast, water, honey and salt together to form a smooth dough. Let the kneader knead for 5 minutes on setting 1. Then add the olive oil and knead for another 5 minutes on setting 2. Roll into a ball, cover with a kitchen towel and allow to rise for 60 min.
Divide the dough into 75 g pieces. Roll each piece into a ball, cover with a kitchen towel and allow to rest for 15 minutes.
Sprinkle some flour on the dough balls. Pierce a hole in the centre with your finger and stretch the balls to form a ring. The opening may be 5 cm in diameter. Place each ring on a baking tray lined with baking paper. Cover with a kitchen towel or clingfilm and allow to rise for 30 minutes.
Bring water to the boil in a large saucepan. Once again, make the opening in the rings a little larger. Carefully slide the dough into the boiling water with a slotted spoon or by hand. Poach for 1.5 minutes, turn over and poach for another 1.5 minutes.
Remove the bagels from the water with the slotted spoon and place briefly on a kitchen towel to drain thoroughly.
Beat the egg in a small bowl and brush the bagels with it. Decorate with the seeds.
Place the bagels on a baking tray lined with baking paper and slide into a preheated 200°C oven. Bake for 15 minutes. Then allow to cool on a wire rack.