Schiacciata – Italian crumble bread
25 minutes
30 minutes
1 hours 25 minutes
Ingredients
For 1 bread(s)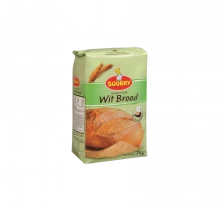 Flour for a white bread
The varieties of bread flour from Soubry have been specially developed to obtain a perfect result in the bread baking process, even with bread machines that demand a very high flour quality. Soubry bread flour contains a lot of high-quality proteins. These guarantee bread with a perfect crumb structure and a golden brown crust. These flour types form the base to which you simply have to add water, yeast, salt and other ingredients depending on the recipe.
This flour is a careful blend of fine wheat for a soft, beautiful and white crumb texture. Nice and light and flavourful.
Preparation
Put the flour in a mixing bowl. Break the yeast and sprinkle over the flour. Now pour in the water and mix well. Add the salt. Continue to knead it into a smooth dough.
Cover the dough with a kitchen towel and allow to rise for 60 minutes.
Roll out the dough into an approximately 25 cm square and place on a baking tray. Brush the dough with the 4 tablespoons of olive oil and cover with a sheet of plastic. Allow to rise for 25 minutes.
Prick holes in the dough with a fork. Rub again with the extra olive oil and sprinkle with rosemary sprigs and the coarse sea salt.
Preheat the oven to 200°C. Bake for 25 to 30 minutes. Allow to cool on a wire rack.
Tip!
You can use even more Italian herbs to create a real summer feeling.