Ingredients
For 1 bread(s)
unsalted butter at room temperature

egg beaten in a cup of water (egg wash)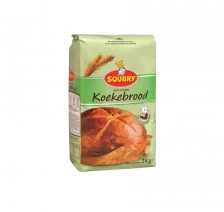 Mix for Biscuit bread
The varieties of bread flour from Soubry have been specially developed to obtain a perfect result in the bread baking process, even with bread machines that demand a very high flour quality. Soubry bread flour contains a lot of high-quality proteins. These guarantee bread with a perfect crumb structure and a golden brown crust. These flour types form the base to which you simply have to add water, yeast, salt and other ingredients depending on the recipe.
This mix forms a special blend with the perfect proportions of sugar, milk and egg yolk powder. Ideal for biscuit bread, sweet sandwiches, cheesecakes...or as a base for sugar or raisin bread.
Preparation
Put the flour in a mixing bowl, crumble and add the yeast. Sift the cocoa powder into the bowl. Pour in the water and mix well. Add the salt and both sugars. Begin to knead. Do not add the butter until the ingredients begin to mix and the dough begins to form. Continue to knead it into a smooth dough.
Now break the dough into about ten pieces and sprinkle with bake-stable chocolate. Press everything back together into a ball and knead a little more.
Roll the dough into a ball, cover with a kitchen towel and allow to rise for 30 minutes.
Push the dough ball flat with your hand. Press the dough into a square and fold the corners over to the centre of the dough. Now turn it over so that the seam is at the bottom. Place your hands around the ball of dough and as you rotate your hand, push the sides down. Do not lift your hand; the dough should be in contact with the work surface at all times.
Grease a baking tin well with butter. Now place your dough seam-side down in the baking tin. Cover with a kitchen towel and allow to rise for 60 minutes.
Preheat the oven to 200°C. Brush the top of the dough lightly with the egg wash. Now carefully make an incision on the top of the dough. Sprinkle a little more bake-stable chocolate into the incision. Put the baking tin in the oven. Reduce the temperature to 180°C. Bake for 40 to 45 minutes. Remove the baking tin from the oven. Allow to cool for a moment and remove the bread from the baking tin. Now allow it cool further on a wire rack.
Tip!
If the bread starts to get too dark, you can put a piece of aluminium foil on top.