Penne with sundried tomatoes and burrata
45 minutes
Ingredients
For 4 persons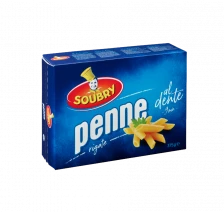 Penne rigate
The ribbed texture and concave shape of Soubry penne absorbs sauce perfectly. It is slightly larger than its predecessor, making it even more ideal for all sorts of dishes. Try a Soubry penne dish with tomato sauce and some bacon or a Soubry penne carbonara, delicious!
Preparation
Chop the onion, mushrooms and garlic. Sauté in a pan with a dash of olive oil. Then add the passata, crushed tomatoes, cream, salt and pepper and simmer on a very low heat for 10 minutes.
Meanwhile, finely chop the basil and save a few leaves for decoration. Finely chop the sun-dried tomatoes.
At the same time, bring a large amount of water to the boil in a tall saucepan. Add salt as soon as the water boils, then pour in the penne rigate. Stir quickly with a wooden spoon and cook for 9 minutes.
Drain the penne once cooked "al dente" and pour into the pan with the chopped basil. Stir over a low heat until the pasta has absorbed the sauce.
Dress the plates. Add the sun-dried tomatoes, rocket, a few basil leaves and ¼ of the burrata per plate.