Ingredients
For 4 persons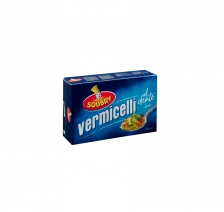 Vermicelli
These traditional pasta sticks provide a delicious addition to any soup. Cook this pasta along with the soup and enjoy the delicious full flavour it produces.
Preparation
Cut the leek into narrow half rings, the celery and carrots into small cubes and the beans into 1/2 cm pieces.
Skin the tomato, remove the seeds and cut the flesh into small cubes.
In a saucepan, heat the butter and sauté the onion, leek, celery and carrots until translucent.
Add the water and chicken stock cubes and bring to the boil.
Add the beans and peas to the broth, cover and cook for 8 minutes.
Add the pasta and diced tomatoes and cook for another 4 minutes.