Ingredients
For 4 persons
Swiss/French cheese (Emmental and Comté)

Splash of white wine vinegar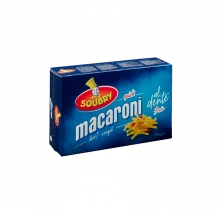 Quick Macaroni
Soubry quick macaroni is short and has a hollow shape. This macaroni is ready in "no time" and – traditionally – combines perfectly with ham and cheese.
Preparation
Peel and cut the parsnips into French fry shapes.
Cut the carrots into equally sized pieces and spread them on a baking sheet. Sprinkle with olive oil and season with salt and pepper. Place in a 200°C oven for 20 minutes.
Put the white wine in a saucepan, press in the garlic. Heat up and add the cheese. Stir until combined.
Dissolve cornstarch in a little water and stir into the mixture until it begins to bind nicely.
Remove from heat and stir in the fortified wine, a small splash of white wine vinegar, and salt and pepper. Keep warm on a very low heat.
Cook the pasta al dente as directed on the packaging.
Cut the white pudding into slices. Melt the butter in a pan and fry the sausage slices and the oyster mushrooms. Season with salt and pepper.
Presentation: Start with the cheese sauce and add the pasta to it. Arrange the slices of white pudding, the roasted vegetables and the fried oyster mushroom on top. Finish with leaf parsley and serve.