Ingredients
For 3 persons
walnuts (plus 2 - 3 for decoration)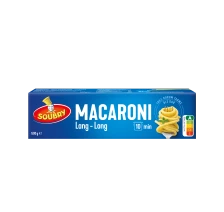 Macaroni
Soubry macaroni is a long, hollow pasta that pairs wonderfully with a meat such as steak, pork tenderloin, veal medallions, etc. or a creamy cheese sauce.
Preparation
Break the Parmesan into cubes and mix to form small balls.
Add the nuts and continue mixing.
Add the olive oil little by little and mix until you obtain a thick pesto.
Add the ricotta and lemon juice and mix well (or mix gently). Add salt if needed (to taste).
Cook the pasta al dente as directed on the packaging. At the end, take a cup of cooking water and set aside.
Put the pesto in a bowl. Add 3–4 tablespoons of cooking water and mix until creamy. Season generously with pepper.
Mix the pasta with the diluted pesto. Serve the pasta finished with walnut and chives.