Ingredients
For 2 bread(s)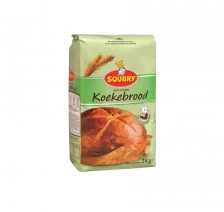 Mix for Biscuit bread
The varieties of bread flour from Soubry have been specially developed to obtain a perfect result in the bread baking process, even with bread machines that demand a very high flour quality. Soubry bread flour contains a lot of high-quality proteins. These guarantee bread with a perfect crumb structure and a golden brown crust. These flour types form the base to which you simply have to add water, yeast, salt and other ingredients depending on the recipe.
This mix forms a special blend with the perfect proportions of sugar, milk and egg yolk powder. Ideal for biscuit bread, sweet sandwiches, cheesecakes...or as a base for sugar or raisin bread.
Preparation
Preparation

Toast the hazelnuts for 10 minutes at 180°C. Then chop coarsely.
Soak the raisins in water for 30 minutes. Drain the water and pat the raisins dry. If you want "the real thing" soak them in rum.
Knead the marzipan for a moment and make 2 sausage shapes 20 cm long.
Beat the extra egg with a tablespoon of water to form an egg wash

Preparation

Knead the flour, yeast, water and salt together into a smooth dough. Let the kneader knead for 5 minutes on setting 1. Then add the butter and knead for another 5 minutes on setting 2.
Divide the dough into pieces and sprinkle with the hazelnut pieces, raisins and candied fruit. Press everything together into a large ball of dough and knead a little more by hand. Divide the dough into 2 pieces. Roll each piece into a ball, cover with a kitchen towel and allow to rise for 20 minutes.
Press the dough balls to form an oval shape about 30 cm long. Brush the lower part of the dough sheet with egg wash. Place the roll of marzipan in the centre and fold the dough sheet over. Lightly press the seam where the egg was applied.
Then place on a baking tray lined with baking paper, cover with a kitchen towel and allow to rise for 60 minutes.
Bake in a preheated oven at 180°C for 30 to 35 minutes. Remove from the oven and immediately brush with melted butter. Allow to cool on a wire rack. Just before serving, sprinkle generously with icing sugar.
Tip!
Use raftisnow instead of powdered sugar. Raftisnow will not melt easily. You can find this at the hobby baking store.