Ingredients
For 12 bread(s)
A few pieces of Oreo cookies, gingerbread and speculoos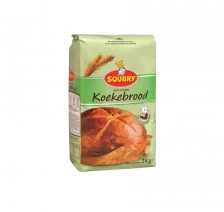 Mix for Biscuit bread
The varieties of bread flour from Soubry have been specially developed to obtain a perfect result in the bread baking process, even with bread machines that demand a very high flour quality. Soubry bread flour contains a lot of high-quality proteins. These guarantee bread with a perfect crumb structure and a golden brown crust. These flour types form the base to which you simply have to add water, yeast, salt and other ingredients depending on the recipe.
This mix forms a special blend with the perfect proportions of sugar, milk and egg yolk powder. Ideal for biscuit bread, sweet sandwiches, cheesecakes...or as a base for sugar or raisin bread.
Preparation
Knead the flour, yeast, water and salt together to form a smooth dough. Let the kneader knead for 5 minutes on setting 1. Then add the butter and knead for another 5 minutes on setting 2.
Roll the dough into a ball, cover with a kitchen towel and allow to rise for 30 minutes at room temperature.
Divide the dough into 50 g pieces. Push flat, fold in the surprise and roll into a ball. Make sure your surprise is completely enclosed by the dough.
Place a baking sheet on a baking tray and spread the balls out on it, seam-side down. Leave plenty of room because the balls will continue to increase in volume. Cover with a kitchen towel and allow to rise for 60 minutes.
Beat the egg with a little water and brush the balls with the egg mixture.
Allow to continue rising uncovered for 10 minutes. In the meantime, preheat the oven to 230°C. Slide the baking tray into the oven and reduce the temperature to 220°C. Bake for 8 to 10 minutes. When the balls have a nice brown colour, they are perfectly baked.
Allow the balls to cool on a wire rack.
Tip!
You can also use chunks of chocolate, your favorite cookie, chocolate or speculoos paste as a surprise. For the chocolate or speculoos paste, pipe balls onto a baking sheet that you let freeze. You can then enclose the frozen balls in your dough.