Braided bread with brioche dough
30 minutes
14 minutes
14 hours 25 minutes
Ingredients
For 1 bread(s)
eggs – preferably well chilled from the fridge

unsalted butter at room temperature

egg beaten in 1 tbsp of water (egg wash)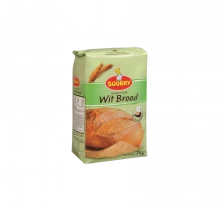 Flour for a white bread
The varieties of bread flour from Soubry have been specially developed to obtain a perfect result in the bread baking process, even with bread machines that demand a very high flour quality. Soubry bread flour contains a lot of high-quality proteins. These guarantee bread with a perfect crumb structure and a golden brown crust. These flour types form the base to which you simply have to add water, yeast, salt and other ingredients depending on the recipe.
This flour is a careful blend of fine wheat for a soft, beautiful and white crumb texture. Nice and light and flavourful.
Preparation
This will make a very sticky dough. So it is better to knead it in a food processor. Put the salt, flour, eggs, sugar and the crumbled yeast in the mixing bowl. Knead everything well. Dice the butter and add gradually. Knead until all the butter is well incorporated.
Pour the dough into a lightly floured bowl, cover and allow to rise for 30 minutes at room temperature.
Remove the dough from the bowl and expel the gas by pushing it flat with your hand. Roll it into a ball. Wrap in clingfilm or place in a sealed bowl in the fridge overnight.
Remove the dough from the fridge. Lightly sprinkle flour on your work surface, remove the clingfilm, cover the dough with a kitchen towel and allow to rest for 30 minutes. It is then ready to be worked.
Divide the dough into three equal pieces. Roll each piece and press flat to form an oval shape. Then roll them into an oblong shape until they are about 20 cm long. Cover with a kitchen towel and allow to rest for 15 minutes. Sprinkle a small amount of flour on the work surface. Then roll out the strands to a length of 40 cm. Make them slightly pointed and plait them together.
Put the plaited dough on a baking tray covered with baking paper, cover with a kitchen towel and allow to rise for at least 90 minutes. The plaited dough will double in volume.
Brush the plaited dough lightly with the egg wash. Allow it to rise, uncovered, for another 10 minutes or so.
Preheat your oven to 180°C. Slide the baking tray into the oven and bake for 12 to 14 minutes. Keep an eye on the colour of the plait. If the crust gets too dark, cover the plait with a sheet of tin foil. Remove from the oven and allow to cool on a wire rack.
Tip!
If you don't want to wait overnight, stick it in the freezer for 20 min.