Ingredients
For 10 bread(s)
Minced meat
mixed minced meat (beef/pork)

egg (use 2 eggs for this, we will use the rest later for egg wash)

salt, pepper, nutmeg, Worcester sauce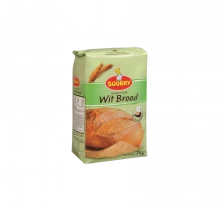 Flour for a white bread
The varieties of bread flour from Soubry have been specially developed to obtain a perfect result in the bread baking process, even with bread machines that demand a very high flour quality. Soubry bread flour contains a lot of high-quality proteins. These guarantee bread with a perfect crumb structure and a golden brown crust. These flour types form the base to which you simply have to add water, yeast, salt and other ingredients depending on the recipe.
This flour is a careful blend of fine wheat for a soft, beautiful and white crumb texture. Nice and light and flavourful.
Preparation
For the minced meat

Mix the minced meat with the egg and breadcrumbs. Season to taste. Divide into 10 pieces and roll into sausages. Place in the refrigerator.

Dough preparation

Put the flour and sugar in a mixing bowl. Break the yeast and sprinkle over the flour. Now pour the milk into the flour and mix well. Add the salt. Once the ingredients begin to mix and the dough begins to form, add the butter. Continue to knead it into a smooth dough.
Roll the dough into a ball, cover with a kitchen towel and allow to rise in a warm place for 30 minutes.
Divide the dough into 10 pieces. Roll up each piece, cover with a kitchen towel and allow to rest for 10 minutes.
Sprinkle your work surface with a little flour. Roll out each ball of dough into an oval shape using the rolling pin. Wrap the sausage in the piece of dough. Make sure the dough is covering the sausage fully. Lightly press the seams.
Arrange them on a baking sheet with the seam at the bottom, cover with a kitchen towel and allow to rise for 60 minutes. Add a few drops of water to the rest of the egg. Lightly brush your sausage rolls with this mixture.
Bake the rolls in a preheated oven at 210°C for 18 to 20 minutes.
Tip!
You can easily freeze these rolls, wrapped in cling film. Then let them thaw before use and bake them for another 8 to 10 minutes at 170°C.

Use your imagination and enrich your mince with pieces of sun-dried tomatoes, lightly sautéed small pieces of bell pepper or extra garden herbs.