Ingredients
For 1 bread(s)
unsalted butter at room temperature

egg beaten in 1 tbsp of water (egg wash) and some pearl sugar to finish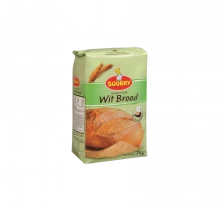 Flour for a white bread
The varieties of bread flour from Soubry have been specially developed to obtain a perfect result in the bread baking process, even with bread machines that demand a very high flour quality. Soubry bread flour contains a lot of high-quality proteins. These guarantee bread with a perfect crumb structure and a golden brown crust. These flour types form the base to which you simply have to add water, yeast, salt and other ingredients depending on the recipe.
This flour is a careful blend of fine wheat for a soft, beautiful and white crumb texture. Nice and light and flavourful.
Preparation
Put the flour in a mixing bowl, crumble and add the yeast. Pour in the milk and mix well. Add the salt and sugar. Begin to knead. Do not add the butter until the dough is formed. Continue to knead it into a smooth dough. Keep 100 g of the dough aside and roll into a ball. Stir the pearl sugar into the 10 g of melted butter.
Now break the rest of the dough into pieces and sprinkle the sugar-butter mixture on top. Press together into a ball and knead a little more. Roll the dough into balls. Cover the dough balls and allow to rise for 30 minutes.
Press both balls flat with your hand, this will distribute the gas bubbles more evenly. Using a rolling pin, roll out the smallest dough ball into a sheet. Roll the dough with the pearl sugar into a firm ball, then wrap it in the sheet and fold.
Now place your dough on a baking tray seam-side down. Cover with a kitchen towel and allow to rise for 60 minutes.
Preheat the oven to 200°C. Brush the top of the dough lightly with the egg wash. Now carefully make an incision on the top of the dough. Sprinkle a little more pearl sugar into the incision. Put the baking tray in the oven. Reduce the temperature to 180°C. Bake for 35 to 40 minutes. Remove the baking tray from the oven. Allow the sugar loaf to cool on a wire rack.