Ingredients
For 4 persons
freshley ground black pepper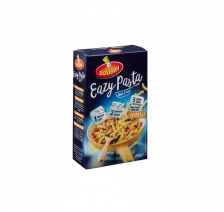 Eazy pasta one pan Spirelli
Not much time and still want something tasty? Soubry Eazy Pasta one pan Spirelli is, as the name suggests, for dishes that only need one pan. You don't have to cook the Spirelli, but can add it directly to your pan. Fry meat/fish – Add vegetables – Add pasta to pan with hot water. Stir until all the water is absorbed and your meal is ready! (Use less water with moisture-rich vegetables such as tomatoes). Ideal when you don't have much time and still want to make something tasty and healthy that doesn't take long!
Preparation
Cut the chorizo into half-moon shapes, the courgette and mozzarella into cubes and the olives into slices.
Cut the tomato into four pieces, remove the flesh and cut into cubes.
Heat the oil in a pan and sauté the chorizo.
Pluck the leaves from the thyme and mix with the chorizo.
Add the courgette and sauté briefly with the chorizo. Season with pepper.
Reduce the heat and add the spirelli together with the water. Stir constantly until all the water is absorbed.
Add the tomato and olives and stir through the other ingredients for two minutes.
Divide the spirelli-chorizo mixture among four plates and immediately add the mozzarella cubes.
Season with black pepper and finish with a sprig of thyme.