Spirelli with veal and blue cheese sauce
20 minutes
Ingredients
For 4 persons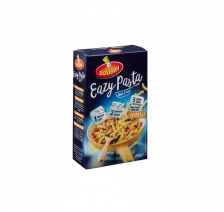 Eazy pasta one pan Spirelli
Not much time and still want something tasty? Soubry Eazy Pasta one pan Spirelli is, as the name suggests, for dishes that only need one pan. You don't have to cook the Spirelli, but can add it directly to your pan. Fry meat/fish – Add vegetables – Add pasta to pan with hot water. Stir until all the water is absorbed and your meal is ready! (Use less water with moisture-rich vegetables such as tomatoes). Ideal when you don't have much time and still want to make something tasty and healthy that doesn't take long!
Preparation
Dice the veal slices, slice the mushrooms and finely chop the onion.
Melt the butter in a pan.
Fry the onion and add the veal. Season with salt and pepper. Fry until the meat browns.
Add the spirelli along with the chicken broth, stirring constantly until all the chicken broth is absorbed.
Add the cream and crumble the blue cheese on top.
Add the mushroom slices and stir for about three minutes.
Divide the dish among four plates and finish with the parsley.